Intermediate Qualification (Level 2)
Working safely in agriculture / horticulture

Target: Anyone working in agriculture/horticulture

Maps to National Occupational Standards in:Agriculture/horticulture – Unit CU1 & CU2 Employment - Units A and E of the H,S & E stand alone units

Learning outcomes:
Element A: Core competencies
On completing this element people will be able to:

Explain the effects accidents and ill health can have on businesses and people.

Explain their role in the business with regard to health and safety.

Co-operate with others to improve health and safety through enhanced competence, control, co-operation and communication.

Recognise how their work can affect the health and safety of others

Recognise the consequences of safe versus unsafe behaviour and the impact that has on attitude of others towards risk

Element B: agricultural/horticultural competencies
On completing this element, people working in agriculture/horticulture will able to:

Identify major sources of accidents and ill health in agriculture/horticulture.

Select appropriate measures to control the risks in agriculture/horticulture – including plant and equipment, safe working practices, instructions in machinery handbooks and personal protective equipment.

Identify jobs in agriculture/horticulture which require specific standards of training and competence

Identify ways of checking that measures to protect health and safety in agriculture/horticulture are effective, properly maintained and used

Recognise the particular risks to children from agricultural/horticultural activities and the significance of adult awareness and supervision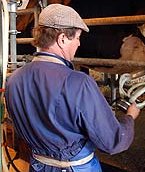 Click graphic to find out how these Agric H&S qualifications were developed
See how these H&S Learning Outcomes may relate with each other in H&S Drag n Drop