Management Qualification (Level 4)
Manage people's health and safety in agriculture/horticulture

NEWS Level 4 Qual Accredited by QCA in early 2007
Target: Farmers/growers, managers and owners of land-based enterprises with a management structure

Maps to National Occupational Standards in:Employment: Units C & D of the H, S & E stand alone units

Learning outcomes:
On completing this unit, people will be able to:

Explain the main requirements of the Management of Health and Safety at Work Regulations

Write a statement of policy for health and safety

Describe likely arrangements needed to bring the policy into effect (eg allocating responsibility for risk assessment; checking of control measures; training; information, instruction and supervision; dealing with accidents and emergencies, review of the policy, etc.)

Review risk management systems and their effectiveness with view to improvement.

Describe how the policy might be used to protect the health and safety of vulnerable individuals – new/inexperienced staff, new and expectant mothers, etc.

Consult with employee or trade union representatives regarding arrangements to ensure health and safety of employees.

Communicate the significant findings of the risk assessment to staff in a positive manner

Produce a suitable training plan to meet an identified health and safety training need.

Evaluate recommended control measures using the application of so far as is reasonably practicable

Explain the importance of monitoring health and safety standards

Describe and weigh the factors affecting the priority for action following workplace inspections, risk assessments or health and safety audits

Identify and prioritise the factors that affect the creation of a positive health and safety culture

Propose suitable indicators to measure the health and safety performance of the organisation and those within it (in respect of their responsibilities under the health and safety policy)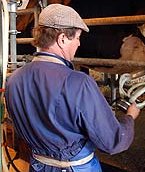 Click graphic to find out how these agric H&S qualifications were developed
See how these H&S Learning Outcomes may relate with each other in H&S Drag n Drop